Towards the end of July I received an email congratulating me and the ladies of Kiskadee Village, and informing me that I had been awarded the 2018 Godfrey Chin Prize for Heritage Journalism. I was bowled over! When the official announcement came a few days later it said the following:
"THE GODFREY CHIN PRIZE FOR HERITAGE JOURNALISM
Ms. Gaitri Pagrach-Chandra (First Prize)
For "The Wedding" sequences in Kiskadee Days. The sequences were published weekly on Facebook from Friday May 25, 2018 to Friday, June 29, 2018.
Kiskadee Days is set in a rural Guyanese community. It is a community of ceramic sculptures created by Guyana-born, Netherlands-based, Gaitri Pagrach-Chandra. It is an innovation in Guyanese storytelling. Her sculptures, her "Ladies" – among them are Ajie, Aunty Jessie, Miss Bhagwattie Singh, Bhougie, Bibi, Claudette, Dulari, Ethel, Indrani, Jasoda, Lily-Gal, Mabel, Mavis, Miss Phoenix, Mudder Melrose, Parbati, Pearl, Sitira and Shanta. The sculptures are the vehicles through which she shares her recollections about her childhood in Guyana's sugar belt. Starting on Friday, May 25, 2018 and ending on Friday, June 29, her ladies provided an authentic, informative and witty examination of a Hindu wedding in Guyana. These six episodes provided an accessible exploration of a major aspect of Guyanese cultural life. It is a valuable contribution to understanding and harmony. Kiskadee Days embodies all of Godfrey's attributes and advances all the core values GCA considers when determining awards – originality, scope, impact/influence, contribution to harmony, innovation, and creativity."
I decided to travel to New York at the end of August to receive my prize at the Guyana Cultural Association's annual Awards evening, which was held in great style at the Brooklyn Borough Hall. It was a wonderful event, with awards, speeches, song, dance, music, food and great people. You can watch the entire ceremony via the following link https://kiskadeedays.com/2018/07/21/award-show-the-godfrey-chin-prize-for-heritage-journalism/ The Godfrey Chin Prize starts at about 50 minutes, for those who have little patience to watch it all.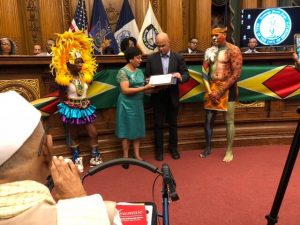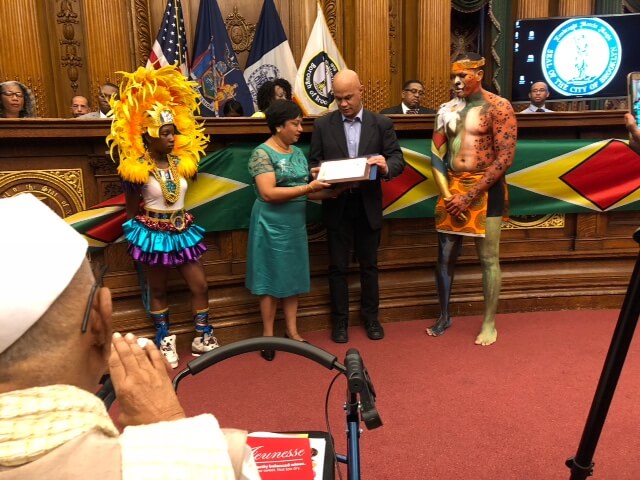 After my acceptance speech, I had a special surprise for the GCA. I had brought Sitira with me and officially presented her to the Guyana Cultural Center in New York, to be a permanent part of their collection. She will represent Kiskadee Village in New York and the Kiskadee ladies and I hope that she will bring pleasure to many. We will miss her physical presence, but she will remain with us in spirit and we hope to hear how she is faring in 'farrin', such a long way from her bamboo dam.